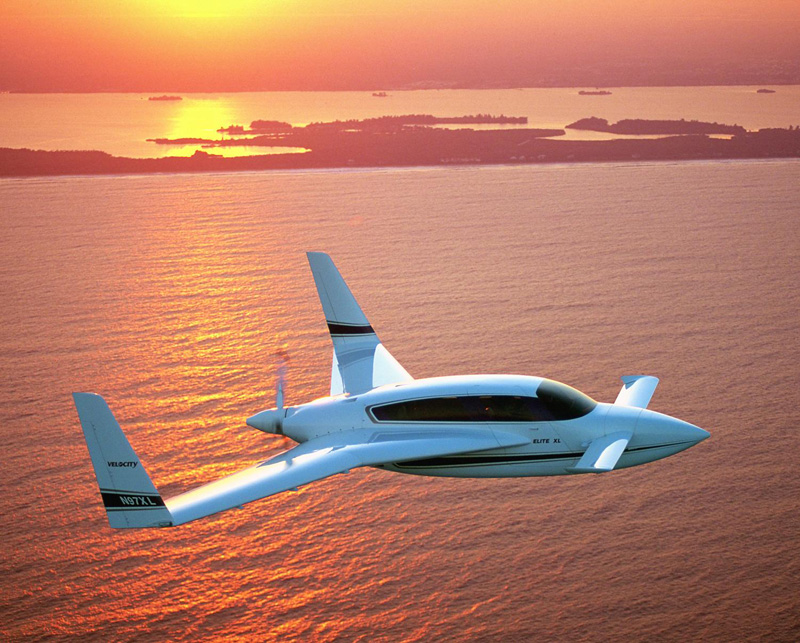 If your heart doesn't jump at the sight of this aircraft then perhaps this is not the website for you. Go back to Amazon and buy yourself some nice slippers.
These things are HOT. Sexy from every angle, 4 seats and performance to make your eyes pop out. Six seats and twin engine configurations are also available.
How fast? How does 180 KIAS in a cruise configuration sound? Combine this with the 950NM range (1 700+km) and you can be flying from Hobart to the Gold Coast in less than 4 hours. Now before you jump up and down and tell me that I'm out 30 minutes, don't forget that with your 195 HP Turbo powered engine you'll be bopping along above all the weather and thermals at FL170 with a ground speed of 250 Knotts. Yep. That'll do it.
No other 4-place kit aircraft offers the quality, performance, comfort and superior design of the standard Velocity. This plane's aerodynamic stability is one of its strongest assets. Featuring easy-entry dual gull-wing doors, choice of powerplants, and is available with fixed or retract gear.
Package deals are available for any of the Velocity aircraft range when equipped with a Viking 195 Turbo engine fitted with the Constant Speed Propeller (VIP) option.
Other builder support includes factory quick-build options, interior design and supply and full Australian Dealer Support. Swish Projects will have a company demonstrator on the line soon (relatively speaking!). I am planning my life around taking a year off from late 2023 to build my Velocity SD with a Viking 195 Turbo at the factory in Florida before flying it home to Australia. Now, if taking the aircraft you just built across 4 000km of open ocean isn't standing behind your product then I don't know what is.
They're a good piece of kit. If you need to cross a continent with the family then this is what you need.