READY FOR AN ADVENTURE?
The Florida based company Aero Adventure produces the Aventura II seaplane that will simply excite the senses and have you landing on water, sand, grass or pavement for all your flying adventures! Did I mention the STOL performance?! These aircraft are capable of taking off and landing in less than 250 feet! That allows you to take of and land almost anywhere…safely.
The Aventura II is in fact a two place aircraft so bring a friend along for the adventure and pack a lunch because you may want to fly all day long! Multiple engine options available to suit your needs and budget.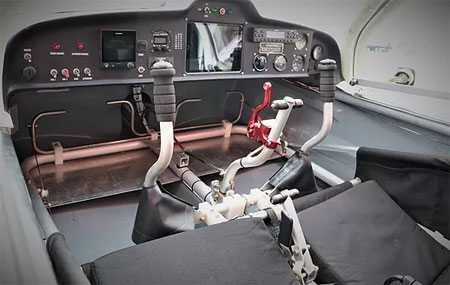 The Aventura II sports dual controls for ease of training and sharing the flight experience with your passengers. The standard seating is comfortable, utilitarian, yet durable for the harsh operating conditions of sun and salt.
The instrument panel allows many options for instrumentation, radios or even a fish finder if you so choose! The cockpit allows for an "open-cockpit", wind in your hair, rest your arm out the window experience and available optional doors for cold climates.
The retractable landing gear is standard mechanically actuated or electric linear actuator is available as an option. Bring your camera along or ask about our multi-camera option for capturing your adventures to share with friends and family!
The kit is available as a full kit or sub assemblies to meet your time, space and budget requirements. Our customers are reporting completion rates of between 250-300hrs! That means you can be flying in as little as 250hrs which is easily obtained in a few months of part time dedicated fun!
Some points of difference between the Aventura II and the similar-looking Sea Rey include the following benefits:
The AVII is about 50 kg lighter than the Sea Rey,
Inspecting the airframe on an AVII is much easier – reportedly, access to many tail components is almost impossible on a Sea Rey,
AVII design makes the aircraft much easier to repair if needed.
AVII has much better manners getting on and off the water (due to a lower angle of incidence allowing you to keep the aircraft on the plane until you are ready to lift off).
Only basic shop tools are required and an assembly manual is provided with clear crisp details of each assembly. The airframe is aluminum (structural part of the aircraft) and the hull is made from fiberglass (which simply provides flotation).
All hardware and everything required to assemble the kit is included. All of the aluminum is anodized (inside and out) to maximize corrosion protection from the elements.
Electric Flaps
Manual Brakes
Matco 8″ Tail wheel
12 or 23 Gallon Fuel Tanks
EZ Removable Sling Seats
AN Hardware (Army/Navy Standard)
Your Choice of Color Patterns for Sails
Full Set of Sails (Made from 4.0 OZ Dacron)
Made From 6061 T-6 Aluminum ( Anodized )
Manual Retract (Standard) Electric Retract (Optional)
*Engine, Avionics, etc. not included.
Additional Options Available
33% Down Required for Orders