Swish Projects is a family business that operates out of a private strip just north west of Melbourne.
Originally, Swish Projects was established to fill the need for an Australian Distributor that will support Zenair and their kit aircraft. The business grew as my contacts in the USA grew and now includes an amazing line-up of kits, engines and accessories.
I seek out the types of aircraft that I would like for myself. They need to be the best-in-class for what they do. Bush plane? You can't really go past a Zenith STOL aircraft. They are a superbly well developed kit that anyone can build. They are very durable and have excellent resale. Ultralight? Badlands Aircraft are so brilliantly fun to fly. Seat of your pants, doors off and the wind in your hair. Amphibian? The Aventura comes in either a kit or ready to fly and is a very well behaved aircraft both in the air and on the water. Affordable speed machine? Check out the CH650 or the CH750 Cruzer. Finally, the one engine to rule them all – Viking Aircraft Engines. Choose a Viking Aircraft Engine for a variety of aircraft – not just those supplied by Swish Projects. You'll find Vikings on RV's, Highlanders and powered parachutes.
My suppliers must all pass the test for superior value, reliability, technology, and customer support. I am not interested in working hard to sell or support inferior products. My gear pretty much sells itself and my suppliers all stand behind their products.
For my part, I will support the purchase, import and delivery of your Viking Aircraft Engine, a variety of accessories, and your complete aircraft kit. I will work with you to make sure that you are getting the right airframe for your mission and the best value for your completed project. I will guide you with detailed information on performance, engine and construction choices – not just the products that I can supply.  
Construction support can be provided by negotiation.  In partnership with TVSA at the Bacchus Marsh Airfield,  we can help with your instruction and support your access to obtaining your sport pilot licence. Did you know that you can learn to fly in your own aircraft?
Support can be as much or as little as you request.
Swish Projects Director, James Fisher, started flying Tomahawks with the Air Training Corp in 1991. I have been in and out of active flying over the years, but I have never left aviation.  When I am not working on my farm or playing with planes I am controlling aircraft at Essendon or Avalon airport.
I am always building something, and as soon as it is finished I start on the next one.  Building is a great activity all of it's own. I built a CH750 STOL last year, this year it is the Aventura II, next year it will be the Badlands, and then probably a CH650.
I have spent time under paragliders and parachutes, in 2-stoke trikes and 2-seater turbines – but you can't beat the freedom of your own flying machine.  My Zenair STOL can fit in my shed, be flown from my farm and be fueled from the local service station.   Because I built it, I can also maintain it and modify it to suit myself.  Brilliant.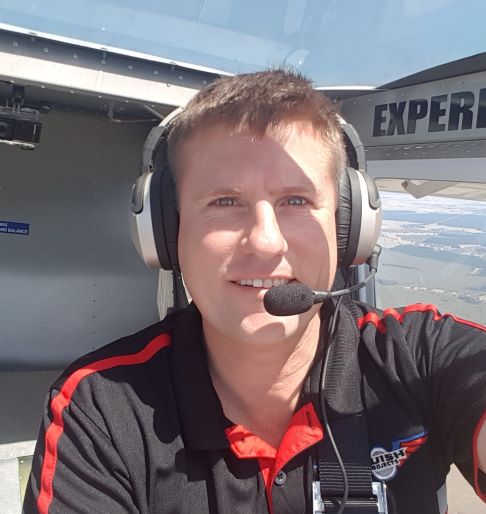 BArts, MSc (Aviation)