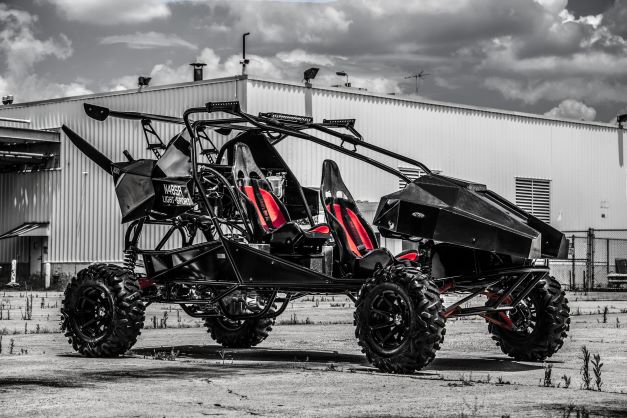 We have all waited long enough – but now it is finally here. The SkyRunner is just like the free-flying experience we all dreamt about as a kid, but better. Way better. After you land you can now cover all terrain in your path at speed and with high levels of safety.
For one thing, nothing has been compromised. As a paramotor this machine is brilliant – and as a hard-core All Terrain Vehicle (ATV) this machine is brilliant.
Made entirely in the USA and proudly distributed by Swish Projects, the SkyRunner comes to you as a Ready To Fly vehicle. In partnership with Knowsley Airpark, you will receive all of the Paramotor Wheel Base training that you need to operate your new SkyRunner safely in all flight situations.
Getting there and back again is all in a day's work for the SkyRunner. Powered by a a world-first Dual Power System your SkyRunner uses a modified 160HP Rotax 914 UL to push you though the air for 120 NM at 40 KTS, and for those times you are ripping it up on the beach or in the bush – you will be pushed forward with the Prostar 1000 two-cylinder ground power unit. The Prostar will give you an incredible range of 400km and a top speed of 120 kph. Both engines are four-stroke engines that only need regular car fuel.
Your ride comfort on the ground is guaranteed with heavy-duty Fox shocks and responsive disk brakes, and in the air you control the wing using simple 'left and right' steering toggles for direction, and more or less power for altitude – simple!
The SkyRunner is not a concept vehicle, and it's not in development – the SkyRunner is in production and the first unit will be landing on Australia's shores for the big reveal at the Avalon International Air Show in March 2023. Be the first to own this go-anywhere machine by placing your order before the Military buy them all.
Fitted as standard with two seats, the rear seat can be easily converted to carry a stretcher patient (across the vehicle). SkyRunner has been tested and evaluated by US Military forces, first responders and adventure seekers alike. With the SkyRunner you will never be stranded – the Prostar engine will carry you just fine, but if that fails then you can also kick over the Rotax engine and let the propeller thrust drive you either in the air, or on the ground. The SkyRunner is designed to be kept alive in the field and to get you home. Easily deployed by trailer, slung load, air-drop or palletized for rapid deployment whenever the need for penetration into difficult terrain is required.