100% BRAND NEW VIKING ENGINES
90 HP Engine: US $9,995.00
130 HP Engine: US $10,995.00
170T HP Engine: US $16,995.00
---
Others might claim "fuel injection" but not "direct fuel injection" Honda use a Direct Gasoline Fuel Injection System for superior starting, additional power, low fuel consumption, very low chance of detonation, smoothness, internal engine cooling etc.
4 coil ignition system. You don't want a single coil or "dual coil" ignition on a 4 cylinder engine. If one of the 2 coils fail, you now have only 2 cylinders left.
Optional dual ECU systems.
Lifetime chain camshaft drive. No belts or external greased idler pulleys at high continuous RPM.
Integral exhaust manifold cast into cylinder head for a simple exhaust system
Off-set crank shaft and friction reduction coating throughout the engine.
Variable valve lift and timing for superior full RPM range, power, smoothness and efficiency.
This can not be matched with fixed camshafts.
Honda racing technology parts, such as fractured connecting rods and grooved bearings.
40 amp genuine Nippon Denso alternator. Not a $40 copy.
Custom Mil-spec jacketed wire loom.
3 gear gearbox for Lycoming style propeller rotation and vertical engine orientation.
Forged, heat treated and ground helical gears with heavy duty German/Japanese roller and ball bearings throughout for extreme reliability and durability.
Dual overhead camshafts.
Original Honda tuned intake system.
2.33/1 gearbox ratio for optimum propeller speed.
Liquid Cooling.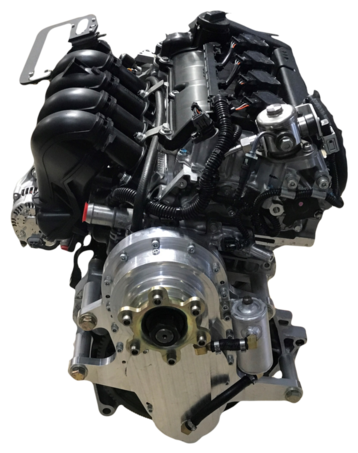 Why we choose OEM built, tested and proven engines over building outdated technology from decades old replacement parts
Selling used engines has always seemed to be a controversial topic, it is time to dig a little deeper into the reasons we offer both used and new. Lets start by clarifying what used is.
We start with the most up to date year engines with super low mileage, derived from fender benders across the US. When customers want the information about where there engine core came from and how many miles it had – we have all that documentation readily available to show.
Companies like Honda and Mitsubishi have spent millions of dollars refining and testing. We don't claim that we can outsmart either company when it comes to the design of any internal running component of these engines. We don't change vital engine parameters around and claim we have different models. The compression, etc. is all stock. Every part is OEM Honda / Mitsubishi, nothing is new aftermarket from unknown origins.